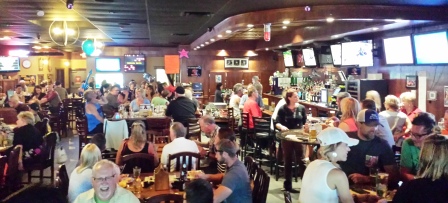 Your Home for Good Friends, Good Food, and Good Times!
Did you know that the Copper Mug is actually the oldest Pub in Penticton?
The Mug is also the second oldest Pub in BC! Since 1974, we've worked hard to deliver the best food with the best service and fun atmosphere. In fact, the readers of Okanagan Life Magazine ranked us as one of the Top Pubs in the Penticton area! Come and join us, relax with friends in our fun, friendly atmosphere, or catch the game on our 80″ LCD TV's, the biggest in town!
Our house menu consists of good old fashioned pub grub coupled with lighter fare and healthier choices to appeal to a broad cross section of tastes and palettes.
There's always something fun going on at The Copper Mug Pub – be it our Monday Night Golf special, NFL Football Pools, or Friday night "Name That Tune", so be sure to check out our new FaceBook Page to find out when our next night of fun.